---
SEO Tactics That Will Work in 2023 and Beyond 🚀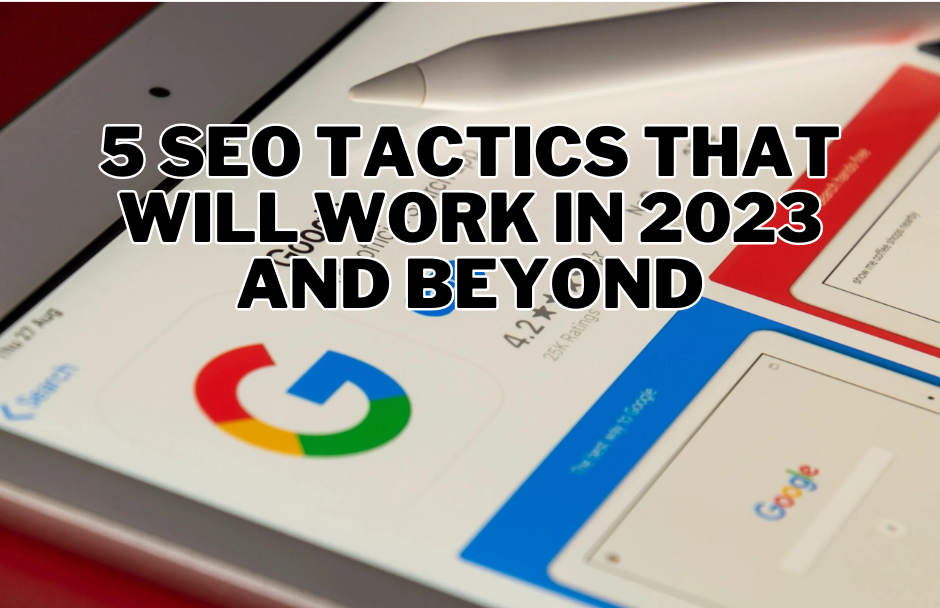 Search engine optimization or SEO has remained one of the key tools in marketers' portfolios for many years for a number of good reasons. On the one hand, organic traffic is one of the main sources of visitors for thousands of websites lacking resources for large-scale paid promotion. The selection of effective keywords for local marketing and the optimization of your platform contents frequently produces unbelievable results and boosts your sales figures manifold. On the other hand, SEO is crucial for meeting some less explicit requirements formulated by Google such as the E-E-A-T concept standing for Experience, Expertise, Authoritativeness, and Trustworthiness. Here are just some reasons why ignoring search engine optimization may backfire for your brand in the following several years: 
Google is presently planning to cut off all support of third-party cookies in the nearest future. This means that organic traffic and first-party data can remain the only viable option for marketers in 2023 and beyond.

Successful brands are progressively moving towards pull marketing focused on the provision of quality content rather than the pull strategy focused on paid ads and obtrusive promotion of products and services.

SEO is one of the few instruments granting you valuable insights into consumer behaviors and motivations. The lack of this data prevents you from building a superior user experience and launching effective marketing campaigns.

Search engine optimization may be especially valuable to smaller brands unable to regularly use paid advertisements. It represents a one-time investment that will pay off for years to come and will only require minor revisions in many user scenarios.

As opposed to many marketing gimmicks, SEO offers quantifiable results that you can measure and control. You can instantly see what practices work for attracting new leads and which ones should be discarded to save your valuable resources.
With that being said, SEO tactics remove a 'moving target' for many practitioners. Unfortunately, this sphere is characterized by frequent updates from Google, the emergence of new trends, and the decline of some instruments that used to provide good results in the past. In this article, we will analyze the 5 best SEO tactics that will work in 2023 and beyond to give you the tools for success.
1. Website Speed optimization
While the first articles about website speed optimization published by Google date back to 2010 and beyond, the majority of modern websites still fail to properly use the provided tools such as Page Speed Insights to cut their loading speeds. According to multiple studies, most users will only stay on a random page for 3 seconds until they choose to look for relevant information elsewhere. With that being said, only 50% of all websites on the Internet followed the '3-second rule' in 2020. The situation may have gotten even worse in the last few years due to the following factors: 
The number of users using their smartphones and other portable devices for browsing the web has increased manifold; 6.92 billion in 2023.

Even 4G speeds remain problematic in many regions of the world.

Consumers performing local searches expect to get relevant information ASAP to make prompt decisions.

Even a 3-second delay forces 7.9% of visitors to close the page increasing your bounce rates.

With Google paying greater attention to mobile-first websites, laggards will be severely punished in terms of their SERP ratings.
If your website speeds leave much to be desired, this should be the top SEO priority that should be addressed before you even start reading the following recommendations on this list. Seriously, with Google highlighting the relevance of this factor since the early 2010s, any website failing to follow its instructions is at risk of an impending disaster waiting to happen at any moment now. 
Here are some practical ideas you can implement right away to significantly cut down your website loading speeds: 
Analyze your incoming traffic. You may be surprised to see high rates of international customers or some demand spikes occurring during the periods you considered idle.

Try several hosting providers or several subscription plans to ensure that all of these visitors receive a proper user experience.

Compress all images and videos on your website. For example, WebP images weigh 25-35% less than their JPEG and PNG counterparts. 

The increasing mobile-first trend suggests that you may choose to use smaller images, lower audio quality, and lower video resolution to further cut your traffic loads since smartphone users do not benefit from larger files.

Use HTML, JavaScript, and CSS minification. This can usually be performed using automated plugins and/or free scripts and may provide a significant performance boost for some older websites.

If you apply the 5 techniques discussed above, you will probably see loading speeds amounting to 3 seconds or less. As soon as you reach this limit, it is time to move on to some more advanced techniques. 
2. Mobile Usability, Mobile Friendliness, and Mobile-First Indexing
In 2020, Google announced its willingness to use mobile-first indexing for all websites analyzed by its crawlers. These experiences are also included in Page Experience rankings directly affecting SERP and other indicators that can put your resource higher in search engine outputs. While the timeline for these changes has been moved several times in the recent past, it is evident that the increasing popularity of portable browsing will make mobile devices the primary way of browsing the net, interacting with brands, and making online orders. As of 2022, many reports claim that 40%+ of all transactions are performed using smartphones, which means that the provision of a top-class experience to these users can be a make-or-break factor in your 2023 marketing strategy. Here are some characteristics of mobile-friendly websites and mobile-optimized websites ensuring superior usability: 
Content and headings are equally meaningful and usable in both desktop and mobile versions.

Ad placement in the mobile version follows Google's Better Ads Standard guidelines.

Images and videos do not use changing URLs.

The mobile website does not contain fragment URLs.

Responsive web design is used at all times.
Google's official recommendations to website developers on increasing mobile-friendliness also suggest a number of practical recommendations listed below:
Check how your website looks from multiple devices (ask your office colleagues and relatives to log into its main page). 

Ask them to perform some basic tasks such as adding an item to a shopping cart or clicking on some internal links.

Check how your responsive website design works on tablets such as Apple iPad or Samsung Galaxy.

Be extremely careful with interstitials such as cookie consent forms potentially making it impossible for users to dismiss them.

Avoid aggressive app download promotions disrupting mobile viewers' browsing experience.
3. Google E-E-A-T and YMYL
Google's E-E-A-T (Experience, Expertise, Authoritativeness, and Trustworthiness) concept remains an elusive indicator mentioned in some guidelines but only defined in relatively broad terms. In combination with its YMYL (Your Money or Your Life) counterpart, it refers to the quality of content published on modern websites outlined in such documents as the Search Quality Evaluator Guidelines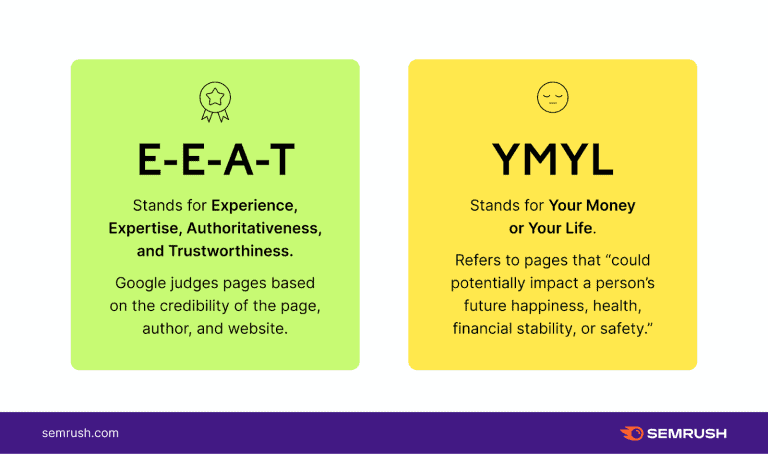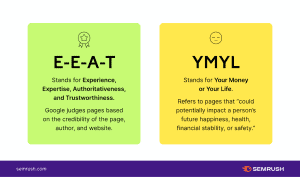 . If we try to reformulate the pieces of information available on the topic in simple terms, we can arrive at the following conclusions: 
Content posts must provide useful information to users.

They need to prioritize their interests and create value.

Such pages should not put 'beneficial purpose' above user value.
Effectively, these guidelines put an end to the 'bad SEO' of the past when marketers simply filled pages with random keywords and semi-relevant information that did not always match search requests in order to sell some products and services to the audiences accidentally visiting such pages. This prohibition is explicitly outlined by the YMYL concept stating that any published content must not deceive readers or adversely impact their happiness, financial stability, or health. So, what can you do to adhere to these requirements? Here are some ideas: 
Focus on your core competencies demonstrating your expertise and creating value for the readers and viewers of your content.

Establish your expertise through some backlinks from reputable industry resources citing you as an expert in your field.

Upload content related to your areas of competence on a regular basis to further convince Google crawlers and human reviewers that your website is not a scam and seeks to build long-term relationships with its visitors.
We thoroughly follow this plan with our own PhD writing services website. We write and publish practical recommendations to students without directly promoting our offerings, which creates value for them. As a result, many readers recognize our expertise and become our loyal customers.
4. Local Marketing
As found by a recent Hubspot survey, 46% of all searchers on Google seek to find information about local businesses, products, or services. This idea implies that many brands should completely revise their SEO tactics to use their financial resources more effectively. Here are some practical ideas: 
Fill in all fields of your Google My Business profile.

Run a local SEO audit to see whether you are using proper keywords highlighting your location.

Add location and business hours pages to your social media profiles and your website. 
Create content highlighting your area of residence such as the coverage of some events you took part in or sponsored as an organisation. This increases your visibility in local search outputs and increases your chances of showing in featured snippets for local searchers. 
Do you need help Getting Statred with Google Business Profile? Click on the graphic below by www.brightlocal.com.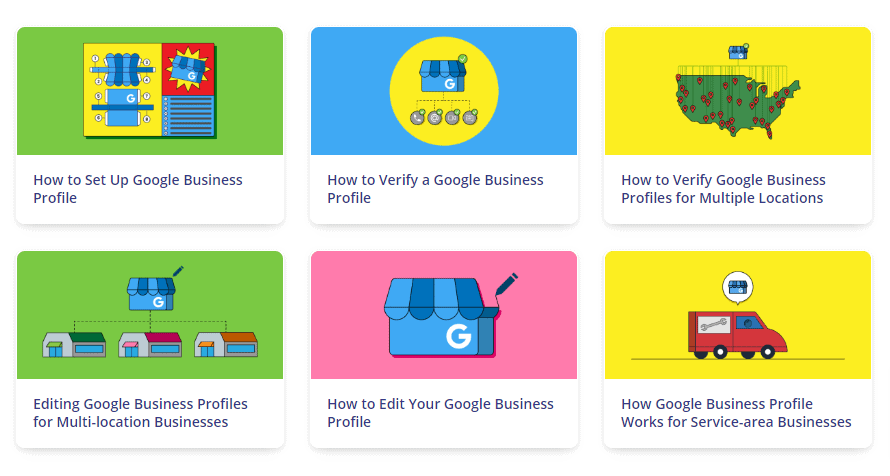 5. Keywords Research
Last but not least, keyword research remains one of the most powerful SEO techniques at the moment as a way of boosting your inbound marketing efficiency and targeting the right audiences. While many marketers advise their clients to look for popular search terms, this approach does not provide good results since you are increasing your exposure to competition by doing this. The use of content marketing as your main promotional tactic also suggests a reverse approach realized via the following steps: 
Find your ideal keywords and create the content supporting them afterward rather than vice versa.

Combine top-ranked keywords in terms of monthly search volumes with the ones identifying your website.

Use Google Analytics to explore the keywords that are presently bringing viewers to your website and remove underperforming ones.

Look for user problems rather than trending topics.
The last recommendation may be seen as a pivotal one in terms of revising your SEO strategy. The increasing popularity of Google snippet view outputs reflects a simple idea. Users are looking for immediate answers to their questions rather than extensive reference information. If your content is optimized in the way providing these instant solutions, this will increase your click-through rates and your organic traffic. 
Here are some ideas on how you can naturally include your keywords in different sections of your website without disrupting user experiences: 
Put keywords in URLs and headings rather than plain text segments.

Image title tags and alt text fields let Google crawlers learn what your website is about without being intrusive to readers.

Website titles and meta descriptions may be a good way to place your keywords to increase click-through rates.
The main thing to keep in mind when using keyword optimization and other SEO tactics discussed above is to not use sketchy practices that can be characterized as 'black' or 'grey' SEO. While many marketers recommend using some of these to boost your results in a short-term perspective, you may get severely penalized by Google in the future for keyword stuffing or the provision of low-value content and poor user experience. The immediate benefits are simply not worth the financial losses and reputational damage you can incur in the worst-case scenario. 
As with all good things in life, SEO tactics require time and effort and really start to pay off from a medium- and long-term perspective. Implement the earlier described instruments, introduce some thoughtful experimentation, and make sure that you have a well-designed content plan following an established schedule. You may also choose to first use these tactics individually to measure their comparative performance and make 'scientifically solid' decisions regarding your marketing campaigns and search engine optimization strategies.
Ready to take your business to the next level? Contact us today for a
FREE consultation
!
You will come away with a few tips you can implement right away.
Let's achieve greatness together.
California SEO Professionals
www.CaliforniaSEOPros.com
  info@californiaseopros.com
  855/925.315.9736
Recommended Posts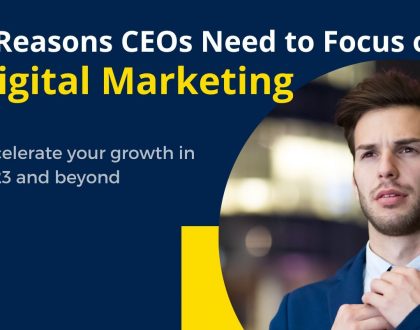 September 27, 2022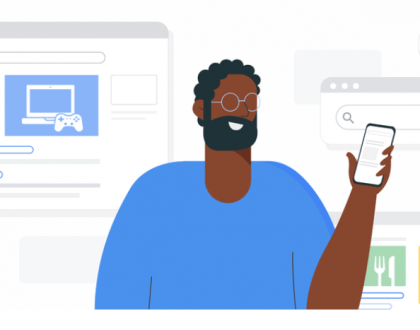 September 26, 2022